We are very proud to announce that SubroSmart was named Subrogation Specialist Firm of the Year 2018 at The US Captive Awards. This is the 4th year in succession that we have topped this category.
A panel of 23 judges from across the captive marketplace recognised SubroSmart as the leading subrogation firm. After the event, the judges commented:
"SubroSmart remains a leader on subrogation services for captive insurance companies, an area still underutilised by the captive owner community. The firm is committed to working with the broader captive industry to educate professionals and firms on how subrogation can improve a captive's bottom line. The judges were impressed by this valuable approach."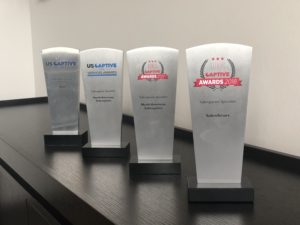 America's captive insurance industry gathered in Burlington, Vermont, on August 6th to celebrate the annual U.S. Captive Review Awards. This was the largest gathering in the event's eight-year history. Richard Cutcher, Editor-in-Chief of Captive Review led the evening's events and handed out awards to members of captive industry across more than 30 categories.
"I am delighted for the whole team that we have won this award for the 4th year in succession. It is their commitment, hard work and desire to deliver service excellence and value to a captive's bottom line which has been recognized by the judges."
Gregory M. Zarin, Co-Founder and President